The Hydra Collection

A unique range of hand crafted bathware with flexable design options to suit any style
Style and Luxury

Nothing Compares to the luxury of our rainmaker showers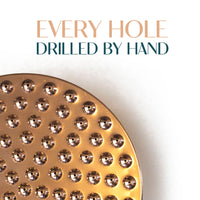 Once you've stood under one of our Rainmaker shower roses, you'll never want to leave.
These hand-crafted copper roses bring a touch of sophistication, function and timeless appeal to your bathroom, providing affordable luxury and a shower you'll never want to step out of. Our roses are crafted in Canterbury from locally spun copper and hand-punched to capture the simplicity and elegance of traditional Victorian workmanship.
Built for outdoors
We build our products with the outdoors in mind. 
We use copper and brass to ensure our products withstand the forces of nature, Build beautiful patina's and blend elegantly with nature.
Connect with mother nature, with outdoor showers, baths and basins.
We strive to make the best product on the market, we only use the best materials and build all of our products to the highest standards to make sure you get the perfect shower.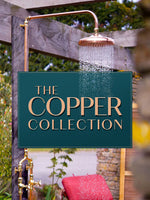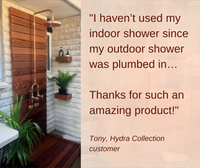 What our customers are saying
I am blessed to be working with perfectionist professionals – thank you for your assistance.  The installer is also a perfectionist and is doing your beautiful tapware extreme justice by applying it with great care and expertise.

Laura
Thank you so much for the new tap, we love it!! In fact we love it so much that we wish to order another to replace the other tap in the laundry.

Paul
I just wanted to email you and say firstly wow! We received the shower and taps and they completely blew us away. Your attention to detail in the packaging is phenomenal too. We couldn't love the shower any more, thank you, and can't wait to get it all installed next week.

Mel
I would like an additional shower rose, this is now our 7th Hydra Plumbing shower rose, clearly we like them!

Jim
I recently purchased a 200mm Polished copper rain maker shower head from you, I am very impressed with the quality of the head and intend to purchase more

Kyle
We are very excited to see this exquisite product which will be a star feature by our pool!

Laura
Thank you so very much for organizing the perfect shower kit for our outdoor project!! I am ecstatic that you were able to supply the vision that I had for our outdoor shower. 

Andy
This section doesn't currently include any content. Add content to this section using the sidebar.